"TICK TOCK, TICK TOCK" Outdoor Public Art Exhibition Giant 8-Metre-Tall Gummy Bear Sculpture at the Tsim Sha Tsui Clock Tower From now until 1 January 2023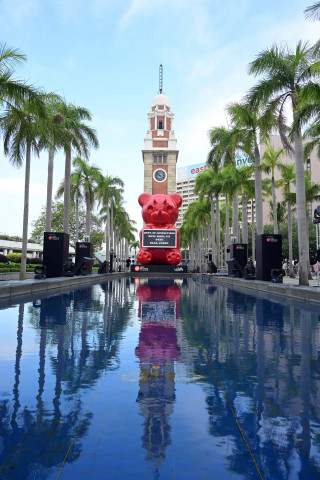 Presented by First Initiative Foundation (FIF) and supported by the Hong Kong Tourism Board, "TICK TOCK, TICK TOCK" is now on view until 1 January 2023. The large-scale public art exhibition is located next to an iconic landmark, the Tsim Sha Tsui Clock Tower. The exhibition features renowned American artist WhIsBe"s largest art piece to date, a giant red sculpture standing over eight metres high.
The three-storey-high sculpture combines the modern gummy bear with prehistoric dinosaurs, along with another two-metre-plus tall teal sculpture set on the Victoria Harbour waterfront. The harbour's glittering, shimmering water surface is part of the display via a special mirror/chrome coating effect on the sculpture, incorporating technological elements such as Augmented Reality (AR) and Instagram filters, allowing the public to capture sweet moments.
The series is a signature part of the artist's work, which is loved and recognized worldwide. WhIsBe said, "After visiting Hong Kong a few years ago, I was inspired by the landscape and challenged with how I could integrate my work into the city's identity. I am excited to return to Hong Kong with the next evolution of the Vandal Gummy, a brand-new installation incorporating digital and interactive elements."